World Cup Penalty Football Game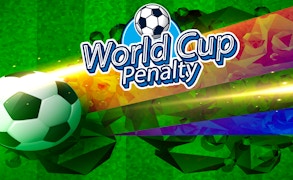 World Cup Penalty Football Game
Description
Experience the thrilling adrenaline rush with World Cup Penalty, a soccer-focused mobile game geared to test your precision and tactics. As the stakes rise with each penalty shot, this gripping game allows you to choose from diverse countries, each embodying a unique playing style. The objective is clear - score more times from the penalty spot than your opponent and ascend through successive tournament rounds. Can you handle the pressure and take your team to glory?
How to play
World Cup Penalty's mechanics are simple but captivating. You alternate between taking shots and defending. You have ten attempts to score goals while blocking your opponent's shots. To shoot or block, follow the referee's instructions. Remember, strategy is key - plan your shots well!
Tips and Tricks
Stay alert and focused on both offense and defense. Timing is critical in taking shots and blocking. Practice patience, don't rush your shots or defenses; timing can tip the balance! Always plan ahead - a well-thought-out strategy can lead to a winning goal.
Features
Diverse range of teams symbolizing various countries for selection.
Straightforward mechanics offering an engaging gameplay experience.
Vibrant graphics enhancing the overall visual appeal.
A progression system encouraging continued plays through tournament rounds.
A blend of strategic planning and accuracy requiring skills.
What are the best online games?