World Cup Fever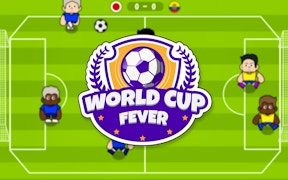 World Cup Fever
If you're a fan of ball games, particularly soccer games, then the exhilarating release of World Cup Fever is set to stoke the fires of competitive gaming within your veins. This game will strike a chord with anyone who has ever found themselves entranced by the likes of "Soccer Stars".
The game takes you on an adrenaline-fueled journey, guiding you through the ranks as you attempt to steer your team of three characters towards the coveted football World Cup title. The thrill of the chase and the glory of victory are at your fingertips, with every pass, shot, and strategic move unlocking a new level of engagement.
World Cup Fever becomes much more than just a game: it's an exploration into depths unforeseen, seamlessly blending the line between virtual reality and real-world passion. The intensity is high-stakes, with every play potentially game-changing, echoing the spirit reminiscent of legendary World Cup games.
In essence, this game offers an unmatched experience for any ardent fan or casual player seeking to dive into the fascinating world of soccer where strategy, skills and luck intertwine to deliver moments that are heart-stopping and triumphant. So lace up your virtual boots now and embark on an unforgettable journey to World Cup stardom in World Cup Fever.
If soccer is your sport and gaming is your passion, then heed this call from World Cup Fever, where dreams are snatched from the realms of fiction and planted firmly on the pixelated turf.
What are the best online games?