Wordscapes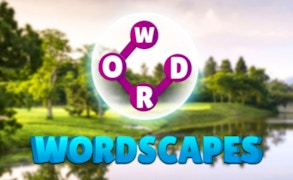 Wordscapes
The mind works in mysterious ways and when you see a specific prompt, you may see things that other people don't and that's what Wordscapes hones in on. This is a digital version of the word jumble with a few changes here and there. Whether you're coming by for the daily challenge or just want to see how far you can get, it tests how your mind works and your general knowledge of words. You'll search for anything that jumps out at you and maybe test out some unusual combinations that can end up teaching you some strange new words.
About Wordscapes
With the gradual fading of newspapers and other print material; games and apps have come in to provide our word challenges. You've got a lot of variety out there and since they're easy to process, they're easy on your devices and it's easy to randomize the puzzles. This game is the same that has level progression of course, but also encourages you to check in every day for a special puzzle. It's something to do while relaxing or to kill time and as a result, you'll be sharpening your mind and hopefully improving your vocabulary as you make progress and find answers.
How to Play
Wordscapes is a 2D puzzle that can be played with only the mouse. You have to use a combination of clicking and dragging in order to make words. The goal of each level is to fill the blank spaces with the right words. The blank spaces appear at the top at the center of the screen. Underneath it is a circle that contains the available letters you need to use. The button on the left can randomly rearrange the letters for a different perspective. On the right is a button that lets you fill in one of the spaces with a letter at the cost of coins which are earned by completing levels.

To make words, you need to combine the letters in the circle. To do this, click and hold on the letter you want to start on. Then, drag the mouse to the letters in sequence to spell the word. When you're done spelling, simply let go of the mouse button on the last letter and the blank spaces will be filled. Keep in mind that not every viable word will be accepted. Once you fill in all the blank spaces, you'll move on to the next level.

Tips and Tricks
This is a game that wants you to take your time and that's just what you should do. There's no time limit or punishment for making mistakes so feel free to experiment. Always build words around the available vowels.

Game Details
Developer: PeopleFun
Platforms: Web Browser (PC and mobile), iOS, and Android
Languages: English

Gameplay Footage
FAQs
Is Wordscapes safe?
This game has been around for a while online as an app. It's free to play, and download, and doesn't require you to enter any personal information to play or access.

Is it really good for the brain?
While word games can definitely test your sharpness and memory, it's unclear whether or not they improve your brain's performance over time.
Games similar to Wordscapes
Considering the concept and gameplay, you can find this title in the Word and Brain Games on GamePix. There are also the games Word Jungle, Classic Hangman, Mate in One Move, and Ninja Warriors Puzzle.
What are the best online games?