Words of Wonders: Crossword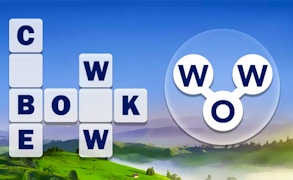 Words of Wonders: Crossword
Dive into the captivating universe of (WOW) Words of Wonders: Crossword, an enthralling online game that combines the intellectual stimulation of a crossword puzzle with the thrill of global exploration. Not only does this game serve to enhance your vocabulary and spelling skills, but it also whisks you away on a fascinating journey across the world, unearthing the hidden secrets of the 7 wonders and beyond.
Immerse Yourself in a Unique Vocabulary Game
In Words of Wonders, you start with just a few letters. These will serve as your unique clue. Putting your mind to the test, you create new words from scratch and connect them all to reach the final crossword solution. Whether you have a clear solution in mind or have to guess your way to the answer, the game provides a perfect balance of entertainment and cognitive training, honing your searching, writing, and problem-solving skills.
Explore the World One Puzzle at a Time
Travel the world puzzle by puzzle, solving each crossword and overcoming every challenge that comes your way. With each solved puzzle, you're virtually transported to a new destination. What could be more satisfying than expanding your knowledge and improving your vocabulary while experiencing the grandeur of the world's greatest cities and monuments?
Put Your Vocabulary to the Test
How many words do you actually know? Prepare to be challenged as these puzzles test the breadth of your vocabulary, your ability to combine different options, and your search prowess to solve the jigsaw. And remember, there are always extra words to find on each level if you crave a more daunting challenge.
Uncover Hidden Secrets
The crossword game of Words of Wonders: Crossword marries the essential skills you need to solve each riddle. It demands a mastery of vocabulary to advance to subsequent levels, with hidden secrets tucked away in each challenge, ready to be revealed by the keenest of players.
Embark on an Extraordinary Journey
Join the quest and enjoy your trip around the world to visit the seven wonders! With each unique monument represented by a distinct letter, you're not only learning new vocabulary but also marveling at the wonderful diversity of our earth.
Strive to Become a Master
Words Of Wonders: Crossword will test your vocabulary as you make your way through a world filled with challenging levels. Start your journey with the first wonder and ascend to the top. With each level progressively harder and distinct, owing to the game's rich database, you'll never experience a dull moment.
Enjoy the simple and beautiful game design and also the wide variety of levels and puzzles that will give you more fun during the play! Crafted by the creators of Wordz, Words of Wonders: Crossword is an adventure waiting to unfold. So, what are you waiting for? Let the journey begin!
What are the best online games?