Wordle Stack 3D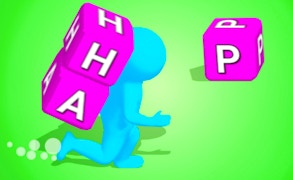 Wordle Stack 3D
Are you a fan of stickman games, brain games, and word games? Craving for something that would challenge your wit while entertaining you? Look no further! The Wordle Stack 3D has arrived to quench your thirst for intellectual stimulation. This engaging word puzzle stickman game is not only an amusing way to pass time, but it's also a great exercise for your brain.
In Wordle Stack 3D, you're not just testing your vocabulary, you're battling against it! It's like playing a game of chess with words as your pieces. You pick up letters, weaving them into a possible answer. It's as if you are crafting a word sword, ready to take on the challenge.
The game mechanics are deftly designed: green means you have the correct letter in the right place, yellow signifies correct letter but wrong position - it's like traffic lights for your brain. You're not just throwing letters into a void; each one is crucial and each guess brings you closer to victory.
This is more than just any other stickman game; it's an addictive blend of entertainment and cognitive training. As you delve deeper into this puzzle wonderland, not only will your vocabulary expand, but so will your strategic thinking skills.
Wordle Stack 3D offers an immersive experience for any gamer seeking mind-bending challenges. It's not merely about guessing words - it's about discovering possibilities and pushing boundaries of your linguistic skills. So what are you waiting for? Enter the world of Wordle Stack 3D and prove that words can indeed be mightier than the sword!
What are the best online games?