Woodventure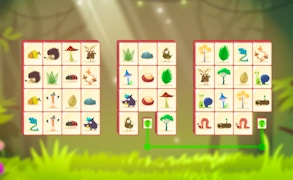 Woodventure
Welcome to the emerald world of Woodventure, an enchanting and cherished board game in the realm of Mahjong games. Unfolding amidst a magical woodland backdrop, this game seeks to immerse younger players, making it one of the standout Games for Kids.
In Woodventure, captivating cute animals populate a verdant forest. Each one is charmingly designed, appealing to children's imagination and fostering an instant connection. The aim here is simplicity itself: find pairs of adorable creatures and eliminate them from the game board. Such easy-to-follow gameplay boosts your child's critical thinking skills while keeping entertainment levels high.
Woodventure's
charm primarily lies in its heartwarming fairy-tale environment. It effortlessly whisks players off into an enchanting realm where they can explore and engage with friendly woodland creatures. Each level has a vibrant aesthetic, merging imaginative layouts with vivid colors that are sure to captivate the kids.
The game is essentially a classic Mahjong connect variant, pitched perfectly for younger minds, yet remaining absorbing enough for adults to share in the fun. The rules are clear and concise: match pairs and remove them from play. This matching process helps kids develop important cognitive skills such as pattern recognition and concentration.
In summary, Woodventure offers an enthralling gaming experience for kids and adults alike. It serves as both an educational tool and a delightful pastime, with its enchanting animal characters making it hard to resist. Whether you're new to the genre or a seasoned Mahjong player, you're guaranteed to enjoy getting lost in this magical forest.
What are the best online games?
Tags