Wooden Fish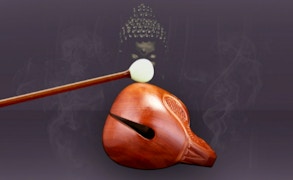 Wooden Fish
If you're on the quest for some cool games that are easy to pick up and impossible to put down, dive into the mesmerizing world of Wooden Fish.
The game, at its core, is a delightful blend of simplicity and enchantment. Designed uniquely to help players unwind, each mini-game within Wooden Fish is as soothing as a Zen garden and as engaging as an arcade classic. From popping bubbles on a bubble wrap to plucking petals or competing in the timeless battle of Tic-Tac-Toe, the game invites you into an enchanting oasis of peace.
Wooden Fish effortlessly takes the mundane actions of everyday life and turns them into captivating experiences. The bubble wrap mini-game is not just about mindlessly popping bubbles. It's an ode to life's simple pleasures, a burst of joy at your fingertips. The petal picking mini-game isn't just a countdown; it's a beautifully presented metaphor about taking moments to breathe amidst chaos. As for Tic-Tac-Toe, it's not just a game; it's an engaging strategy showdown that tests your cool under pressure.
All of these aspects come together in harmony within Wooden Fish, creating an atmosphere where you can leave your worries behind and find refuge in pure amusement. So if you're yearning for serenity in your gaming experience or seeking refuge from the pummeling pressures of hard-hitting action games, then Wooden Fish, with its seamless design and relaxing gameplay, is your sanctuary.
Arcade gaming has taken a beautiful turn towards serenity with Wooden Fish. So why wait? Dive in now and say goodbye to unhappiness!
+
What are the best online games?
Tags