Wood Shop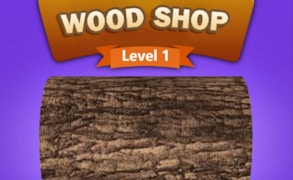 Wood Shop
Wood Shop: A Canvas for your Creativity, An Odyssey of Skills and Colors.
Step into the unique world of Wood Shop, where your creativity meets craftsmanship. This engaging and skillful game is a captivating blend of puzzle and coloring games, inviting gamers of all ages to unleash their inner artists and carpenters.
Wood Shop offers an exclusive opportunity to channel your free time into an enriching and soothing experience. With its vast variety of woodworks in different shapes, it presents a stimulating challenge for every skill level. The sense of accomplishment you experience when you perfect a piece, accruing money and unlocking more intricate shapes, provides an addictive thrill that will keep you coming back for more.
This Skill Games category entrant truly embodies the genre's essence, demanding not only analytical thinking but also precision and patience. Furthermore, the infusion of elements from Coloring Games brings a delightful mix of relaxation and entertainment. Crafting your masterpiece while splashing it with vibrant colors is as therapeutic as it is enjoyable.
With its rich graphics that mimic real-life woodwork aesthetics, Wood Shop also excels in visual appeal. The lifelike sound effects add to the authenticity, further enhancing the overall gaming experience.
In conclusion, Wood Shop succeeds in delivering a satisfyingly challenging yet relaxing environment where gamers can hone their craftsmanship skills while appreciating the beauty of creation at their own pace. An ideal companion for leisure time or a short escape from reality; Wood Shop promises hours of quality engagement.
Your fine tuning skills are on trial; so carve out some time from your schedule; let's begin making some woodwork magic happen!
What are the best online games?