Women Football Penalty Champions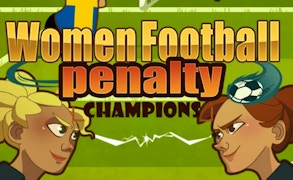 Women Football Penalty Champions
Step into the adrenaline-charged world of soccer with Women Football Penalty Champions. As one of the most immersive football games, it truly captures the spirit, competition, and glory of women's football.
This game makes you feel more than a mere spectator; it allows you to live the high-stakes drama on the field. The ultimate test lies in your hands - or rather, in your fingertips. Imagine yourself in the final thrilling minutes of a championship match. The scores are level, the stadium is pulsing with anticipation, and it all boils down to you - can you succeed where so many have faltered?
If you're passionate about football or simply enjoy engaging soccer games, Women Football Penalty Champions is sure to draw you in with its impressive graphics and addictive gameplay mechanics. The controls are intuitive and easy to master but offer enough challenge to keep hardcore gamers engaged - a perfect combination that ensures wide appeal.
The attention to detail in Women Football Penalty Champions is particularly noteworthy; from player animations that mimic real-life movements to crowd cheers that fluctuate based on your performance. The game is not just about scoring penalty kicks but also about strategic planning and quick-thinking reflexes.
In conclusion, as an ode to feminine football, Women Football Penalty Champions offers a unique football experience that is rarely seen in common football games out there. It's time for all soccer enthusiasts to dive into this unique world of gaming competition and get their share of thrilling moments. Test your abilities under pressure with Women Football Penalty Champions - where every kick can change history.
What are the best online games?