Wolf Tile Block Puzzle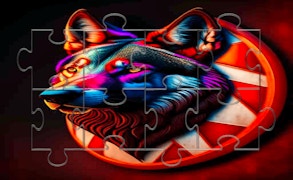 Wolf Tile Block Puzzle
Description
Enter the intriguing world of Wolf Tile Block Puzzle, where each player's ability to solve problems and visual recognition are put to the test. The game presents a disarranged image that players must reassemble by sliding tiles. With each movement, the wolf image comes closer to completion, turning chaos into harmony.
How to play
The controls for Wolf Tile Block Puzzle are refreshingly straightforward - simply touch or click on any tile you wish to move. Slide tiles around until they form the complete picture. Progress through the game is tracked by your ability to successfully recreate the wolf picture from its scattered pieces.
Tips and Tricks
As a tip for beginners, start by focusing on a single section of the wolf picture. This can be either edges or centerpieces. Moreover, occasionally stepping back and analysing your progress can provide a fresh perspective. Remember, you have unlimited moves - don't rush!
Features
User-friendly interface: Easy touch or click controls suitable for all ages.
Mental exercise: Enhance your problem-solving skills as you navigate through each puzzle.
Captivating design: Intricate wolf-themed puzzles that keep players engaged and entertained.
No time limit: At your own pace, enjoy endless attempts at solving each puzzle without any time constraints.
What are the best online games?
Tags