Winter Monster Trucks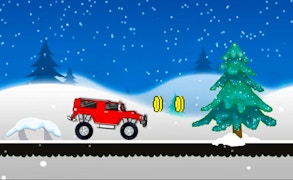 Winter Monster Trucks
Unleash your inner beast this winter with the exciting "Winter Monster Trucks" game, a thrilling addition to the realm of car games and truck games. Perfectly timed for the joyous season, it is one of the Christmas games you wouldn't want to miss. With fun-filled rides across icy landscapes filled with festive spirit, this game keeps you hooked till you conquer all levels.
Packed full of adrenaline-pumping action, Winter Monster Trucks blends the fun of driving games with the thrill of racing. Navigate imposing monster trucks through challenging terrains and earn coins as you go. Every coin earned is a step closer to owning even more powerful monster trucks. Designed meticulously for gamers of all ages, it offers challenging gameplay without compromising on fun.
This isn't just about speed; it's about skill too. The intricate level designs test your abilities to their limits. To master this game, you need to expertly balance speed with precision handling - making every turn, every jump, and every descent a nail-biting experience.
The graphics are another high point of Winter Monster Trucks Race. It captures the chill and cheeriness of Christmas perfectly which gives a festival makeover to conventional car games. So strap on for a joyride where each revving engine drowns out in jingle bells - a unique combination that sets it apart from other generic truck games.
In conclusion, Winter Monster Trucks is not just another title in the vast sea of driving games. It stands out with its festive theme, exhilarating races and easy-to-master controls making it an unmissable choice among this year's Christmas Games.
What are the best online games?