Winter House Quest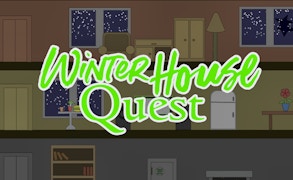 Winter House Quest
Description
Enter the realm of mystery and suspense with Winter House Quest. This chilling adventure puzzle game will engross you in its eerie environment. Your task is to escape from a potentially haunted house, filled with intriguing puzzles and cryptic clues. Each room is a mystery waiting to be solved, making it an extraordinarily immersive experience.
How to play
The game utilizes simple point-and-click controls. Navigate through the puzzling house by clicking on different objects and rooms. Players need to carefully observe each room, as crucial clues are hidden all around you. Solving puzzles is the key to progressing further into the house, ultimately leading you towards your escape.
Tips and Tricks
Keep a keen eye on every detail within your surroundings. No object is insignificant; anything could be a clue to your next move. Use logical reasoning to piece together puzzles and always be prepared for unexpected surprises that might aid or impede your progress.
Features
Captivating storyline: A suspense-filled narrative that keeps players fully engaged.
Intriguing puzzles: Mind-bending enigmas that require creativity and strategy.
Elevated immersion: Detailed graphics, atmospheric sound effects, and compelling backdrops enhance the gaming experience.
Addictive gameplay: The challenging but rewarding progression system keeps players coming back for more.
What are the best online games?