Who is This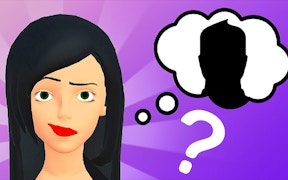 Who is This
Step into an enigmatic world of mystery and deception as we delve deep into the fascinating Who Is This, a new wave in the ocean of puzzling trivia games, specifically designed as a thrilling typing game. Renown for its captivating allure which is setting the gaming community abuzz, this bewitching game is unreservedly taking the lead, especially among Games for Girls, though it caters to all players who appreciate a good mind-stirring challenge.
Who Is This is not just about solving riddles or answering trivia. It's about unraveling a profound mystery. Each chat conversation immerses you in an intriguing dialogue with an unknown stranger, spurring you forward in your quest to unveil their identity. As each conversation unfolds, you will be challenged to ask shrewd questions that reveal more about your enigmatic companion.
The game seamlessly combines elements from different genres to offer a truly unique gaming experience. There are moments where you are tasked with solving math puzzles or drawing something specific. Unlike other typing games, the speed of your typing isn't the only element being tested here. Instead, your ability to think on your feet and crack bewildering cases is put to the ultimate test.
The design and interface of Who Is This are sleek and user-friendly, making navigation through different tasks seamless and enjoyable. The alluring storyline keeps you hooked until the very end while challenging your skills of deduction and problem-solving.
This unique blend of trivia games and typing games underscore why Who Is This stands out amongst Games for Girls. Its formula that effectively combines suspenseful storytelling with challenging puzzles has established it as one of the frontrunners in its genre.
In conclusion, if mystery mixed with logic-packed challenges pique your interest, then Who Is This will undoubtedly grip your attention from start to end. Engage yourself in this captivating world today and commence your riveting journey to uncover hidden truths!
What are the best online games?