Wheelie Challenge 2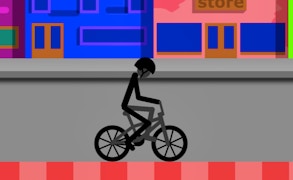 Wheelie Challenge 2
Prepare to rev up your excitement and get your motor running with Wheelie Challenge 2, one of the most thrilling dirt bike games out there. This isn't just about running a race; it's about showcasing your skills, defying gravity, and proving how long can you hold that wheelie!
This game grips with its intensely engaging gameplay, demanding equal parts raw nerve and refined skills. The challenge, as the title suggests, is keeping your dirt bike on its rear wheel while tackling an array of terrains. From the simplicity of asphalt to rugged off-road courses, Wheelie Challenge 2 redefines driving games, making it so much more than just twisting a throttle.
Apart from its excellent physics and responsive controls, Wheelie Challenge 2 sets itself apart with its addictive nature. How long can you wheelie? Keep pushing that record further, racing against yourself in a relentless pursuit of perfection! Each attempt brings you closer to mastering the fine art of the wheelie - indeed, this is what makes it one of the most compelling skill games.
The game also ensures a high replay value due to its score-based progression system. There's always room for improvement! With each playthrough comes a new challenge: Are you ready?
If you're in search for enjoyment or desire to break away from boredom, Wheelie Challenge 2 will satisfy your craving for fun games. Offering an enticing mix of high-speed action and skillful maneuvering, this game will keep you on the edge of your seat as each second counts towards achieving the ultimate Wheelie.
To conclude, if heart-pounding racing action combined with challenging skill games sounds like your idea of fun – then do yourself a favor and try Wheelie Challenge 2 today. This is not just another driving game – it's an exciting test of balance and control that will keep you hooked for hours to come!
What are the best online games?