Wheelie Biker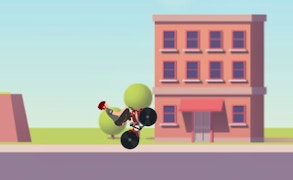 Wheelie Biker
If you have ever wanted to flirt with gravity, tempt fate on two wheels and ride on the edge, the Wheelie Biker game is exactly what you seek. Part of the ever-adrenaline-powered dirt bike games genre, it's a high-speed blend of bmx games and motorcycle games.
The essence of Wheelie Biker lies in its simple yet challenging premise: Pop a wheelie until you reach the finish line. Easy to grasp but difficult to master, this intense and captivating game draws you into a world where skill meets thrill.
To progress through the levels, players must ensure they don't crash before filling their wheelie meter. One wrong move can end everything in an instant - just like real-life freestyle biking! The 'no second chances' rule adds to the overall tension and excitement making this game a perfect addition to your favorite list of fun games.
The dynamic gameplay is well complemented by an array of unlockable bikes. Each new two-wheeler offers unique control mechanics that keep things fresh and challenging. With every fresh ride unlocked, you get a new perspective on conquering levels – pushing your cycling skills from novice to pro.
In conclusion, Wheelie Biker stands out as an exciting addition to the pantheon of online bike games. Its simplistic concept married with challenging gameplay mechanics makes it one of those Skill Games that will keep bike lovers coming back for more.
Wheelie Biker: Where dare meets flair and skill meets thrill!
What are the best online games?