Wheel Smash Game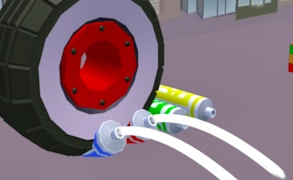 Wheel Smash Game
If you're a fan of Arcade and Skill Games, then the hyper casual game, Wheel Smash, is the perfect relaxing leisure activity for you. This fascinating amusement has been designed for gaming enthusiasts who appreciate simplicity, but still crave for fun and entertainment.
One of the first things you'll notice about this game is its simple operation mode. All you need to do is flex your fingers and click. You don't need to master any complicated commands or tricky moves – pure straightforward fun. It's just you, your finger, and a whole lot of things waiting to be crushed into satisfying pieces.
This Hyper Casual Game isn't just about the simple pleasure of crushing various objects under the wheel either. Its scene-setting is equally admirable, with an exquisite screen that beautifully captures every smash in high definition clarity. Each impact provides a different type of satisfaction that only the finest Skill Games can provide.
The variety of objects available for crushing is another notable feature in the Wheel Smash game. It offers an array of different types of crunchy and soft things each providing a unique crushing experience. The randomness adds an element of surprise to this arcade-style game, making it even more addictive and engaging.
In summary, Wheel Smash skillfully blends simplicity, fun, and satisfaction into a visually appealing package, making it an excellent addition to the world of Arcade games and Hyper Casual Games. It brings forth a whole new level of relaxation through simple yet deeply satisfying gameplay that guarantees to keep you on your toes - or rather finger, in this case.
If you've been looking for a new addition to your gaming repertoire that's easy to pick up but hard to put down, then we highly recommend giving Wheel Smash a whirl!
What are the best online games?