Wheel Duel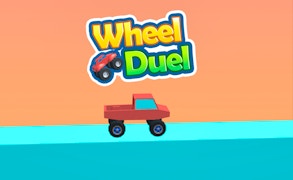 Wheel Duel
Step into the world of adrenaline-fueled racing with the high-intensity game, Wheel Duel. This isn't simply a game; it's a borderless virtual universe where car games, truck games, and driving games collide to provide an unmatched gaming experience.
In Wheel Duel, the monotonous rules of other conventional racing games are overridden. You're not just driving; you're mastering terrain, adjusting wheel sizes in real-time and surmounting looming obstacles in a true-to-life 3D environment. A unique blend of strategy and reflexes is required, making this thrilling masterpiece a member of the coveted Skill Games league.
Staying true to its commitment to mesmerizing 3D game art animation, Wheel Duel's visuals take advantage of every pixel to deliver an immersive feel that is rarely stumbled upon in other Hyper Casual Games. The stunning display does not overcomplicate or distract; instead, it skillfully enhances your overall gaming journey, creating a captivating backdrop for your high-speed stunts.
The unpredictable nature of the terrains keeps you gripped at every level. It is your responsibility to adapt quickly and effectively; each terrain becomes a puzzle that demands your excellence and precision. The ever-changing real-time wheel adjustments undoubtedly reiterate why Wheel Duel fits comfortably amongst top-rated truck games.
In conclusion, if you're after a game that seamlessly blends skillful gameplay with hair-raising speed all while demanding strategic prowess, then Wheel Duel is waiting for you. With its breath-taking graphics, innovative mechanics and exhilarating speed, this fusion of car and truck games promises not just a challenge but an unforgettable journey through unchartered terrains!
What are the best online games?