What Is My Food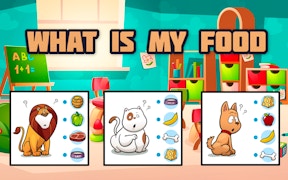 What Is My Food
Description
In "What Is My Food," dive into a delightful blend of animal-based problem-solving and fun. This educational and pleasure-driven game lets little ones explore unique eating habits of different animals. The game play involves guessing the favorite food of various animals, sharpening your child's knowledge in a thrilling manner.
How to Play
The control interface is simple and perfect for a child's use - just click or tap on the correct answer. The game advances with increasing difficulty, compelling players to delve deeper into their animal knowledge bank. As players progress, they are encouraged to learn more about the feeding habits of different animals.
Tips and Tricks
If you're stuck, look for visual hints that correspond with the animal on screen. Remember, some foods are universally liked by most animals! Try to memorize what each animal prefers, this will help you navigate faster through levels as you progress in the game.
Features
Simplistic UI: specifically designed for kids
Educational Value: teaches about various animals and their preferred food
Intriguing Gameplay: offers varying levels of difficulty increasing curiosity
Cute Graphics: colorful and attractive illustrations sure to engage kids
What are the best online games?