What is?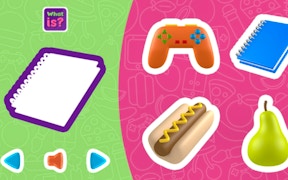 What is?
If you're in search of Games for Kids that not only entertain but also educate, look no further than the interactive and fun-filled game called 'What is?' Developed by Nau.Kids, this educational game is designed to stimulate young minds through a set of creative puzzles while they explore and learn about different objects.
'What is?' operates on a graphical interaction model guiding the kids to match objects with their corresponding descriptions. This delightful mechanic establishes it as one of the must-try toddler games. The gameplay is smooth and user-friendly, making it easy for kids to navigate even on their own. Compatible with phones, tablets and computers, this game ensures that learning remains uninterrupted, regardless of the device.
The game stands as an enjoyable platform for children to learn visually while playing. It encourages cognitive development and recognition skills which lay the groundwork for a successful learning journey. With vibrant colors and eye-catchy animations, 'What is?' keeps its little users engaged and happy. Thus achieving a perfect blend between entertainment and education.
Furthermore, Nau.kids has outdone themselves with this offering by making it both an educational tool and a fun pastime activity. The charm of 'What is?' lies in its simplicity—children are naturally drawn to its colorful animations and intuitive gameplay, making it a top recommendation amongst Games for Kids.
In conclusion, 'What is?' promises an immersive learning experience without compromising on fun—the hallmark of effective educational games. So why wait? Introduce your child to 'What is?' today, and let them enjoy learning in this innovative environment created by Nau.Kids.
What are the best online games?