What do animals eat?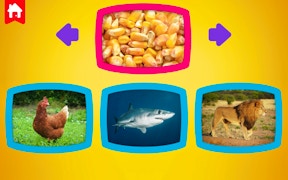 What do animals eat?
Engaging, vibrant, and genuinely enjoyable, "What do animals eat?" is a delightful mix of fun and learning that any parent or child will appreciate. This unique puzzle game, designed by Nau.kids, weaves an engaging narrative of animal life into one of the most popular genres of kids' games.
Diving headfirst into the wild world of animal games, "What do animals eat?" brings a fresh perspective to the table. It challenges your child's mind while entertaining them with colorful graphics and playful animations. In essence, this game is a one-stop-shop for fun brain games for kids which also double down as educational games.
The main aim here is to teach children about different animals' diets in an exciting way! This interesting premise transforms the act of learning into a fun-oriented puzzle-solving activity. The game is also enhanced with interactive features that make it more than just another run-of-the-mill educational game.
"What do animals eat?" stands out in the crowded market as one of those brain games that strikes a fine balance between educational content and entertainment value. It incorporates strategic thinking and problem-solving skills, all through the lens of adorable animal characters and their eating habits.
In conclusion, "What do animals eat?" is more than just another addition to your collection of Games for Kids. It's an interactive learning tool disguised as a delightful game that will keep your children entertained for hours on end. It epitomizes what child-friendly gaming should look like - fun, educational, engaging and visually appealing.
If you're on the hunt for animal games offering more than just aimless clicking around or if you simply need a reliable source to keep your little ones busy while they unknowingly quench their thirst for knowledge - then look no further than "What do animals eat?". Go ahead and introduce your kids to this world full of furry friends today!
What are the best online games?