Weighted Seesaw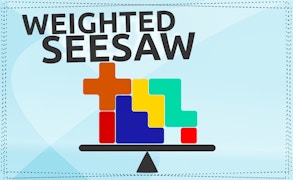 Weighted Seesaw
Step into the world of intriguing mathematical conundrums with Weighted Seesaw, a remarkable game within the brain-games and block-games genres that will challenge your cognitive abilities and quick-thinking skills.
The gameplay is an engaging blend of physics-based mechanics and mental gymnastics, testing the player's ability to balance a seesaw against the tyranny of time. As a player, you're tasked with analyzing the weights on the seesaw and adjusting them accordingly to keep equilibrium intact. It doesn't just involve physical reflexes, but also flexes your mental muscle, pushing you to unlock your inner puzzle-solving genius.
The complexity of Weighted Seesaw spirals upwards as you progress, ensuring an exhilarating immersive experience. Each level is more challenging than the last, demanding adaptability and intensive focus from players as they tackle increasingly complex scenarios.
In a gaming landscape filled with mindless shooters and repetitive challenges, Weighted Seesaw sets itself apart by truly engaging your intellect at every turn. It's not just a game; it's a thrilling brainstorming session that delivers heart-racing suspense along with mentally stimulating puzzles.
In conclusion, Weighted Seesaw isn't for those seeking fleeting entertainment; it's for gamers looking for an intense cerebral workout. The blend of physics-based gameplay intertwined with brain-teasing puzzles makes it one of the most thrilling puzzle games on the market today.
If mind-bending puzzles and challenging gameplay are what you crave, then Weighted Seesaw
should be next in your gaming queue. Be prepared for a thrilling ride that will test your mental mettle, patience, and adaptability.
What are the best online games?
Tags