Water Sorting Puzzle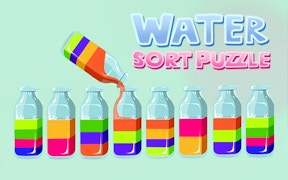 Water Sorting Puzzle
If you're a fan of brain games and puzzle challenges, tie up your boat in the fascinating waters of the Water Sorting Puzzle. Unleashing a new level of excitement within the genre, this color sorting game is sure to stimulate your senses and challenge your logical prowess.
Within the charming simplicity of its interface, Water Sorting Puzzle succeeds in creating a truly immersive gaming experience. Tasked with sorting various hues of colored liquid into matching cups, the gameplay may appear straightforward. However, don't let this deceptive simplicity fool you. As the colors and cups multiply, so does the complexity and challenge of this water sort puzzle color game.
Diving into Water Sorting Puzzle is akin to venturing out into an ocean filled with vibrant sea creatures - intimidating yet captivating. A standout quality that sets this game apart is its dual nature; while it's a fun coloring game on one hand, on the other, it's an exciting brain teaser that works on enhancing your logical ability.
Imagine a canvas where each stroke represents different water colors; mixing one with another creates a new shade altogether – that's what Water Sorting Puzzle feels like. The objective is clear – align each hue with its corresponding cup.
In essence, it's like playing chess against nature where every move decides your fate in the game. As your journey progresses in this water connect puzzle, you'll find yourself immersed in layers upon layers of rich gameplay that keeps getting more engaging with every passing minute.
The ingenuity of Water Sorting Puzzle lies not only in its colorful aesthetics but also in the sheer joy derived from its engaging gameplay mechanics. Packed with countless levels offering diverse challenges, each playthrough is designed to keep you hooked for hours on end.
In conclusion, whether you're seeking to rigorously exercise your logic or just want to relax with an enjoyable coloring game, Water Sorting Puzzle serves as an ideal choice worth making.
What are the best online games?