Water Slide Car Race - Water Surfing Stunts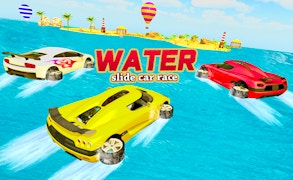 Water Slide Car Race - Water Surfing Stunts
Engage your engines, fellow gamers, and prepare for an exhilarating nitro-infused ride with Water Slide Car Race - Water Surfing Stunts. This game is a supercharged fusion of car games, drifting games, and driving games, adding a new dimension to the racing genre like never before.
A fascinating amalgamation of terrestrial and aquatic elements, this racer plunges you into a world where your car is not just a four-wheeled beast on asphalt but a ship gliding majestically over the azure calm of the sea. Picture this: the acceleration of Formula 1 coupled with the adrenaline rush associated with powerboating – an intriguing interplay that sends thrills down your spine.
Intricately designed water slides serve as racetracks, adding to the novelty factor. Imagine a regular race car's speed and drift capacity transposed to a water slide! Isn't that something you would want to experience? The goal? Navigate your car-turned-ship through these winding slides with precision and win the race – turning you into the 'Captain' of your own journey.
The standout feature in Water Slide Car Race is its unique concept. By allowing you to drive your car like a boat, it takes traditional racing games and flips them on their head. It's no longer just about perfecting that drift or maintaining top speed; it's also about mastering the art of sailing and balancing on waves.
In conclusion, Water Slide Car Race - Water Surfing Stunts offers gamers who enjoy car games, drifting games, or even sailing an exciting new playground. Are you ready to swap asphalt for aqua, trade exhaust for sea mist, and become champion in this water-filled racer?
What are the best online games?