Water Color Sort Puzzle Game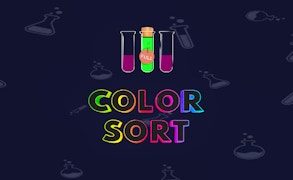 Water Color Sort Puzzle Game
Description
Immerse yourself in the vibrant world of Watery Bottle - Water Color Sort Puzzle Game, a captivating and addictive game that requires strategic thinking and a keen eye for color. Your task is to sort the colored water into separate bottles until each bottle contains only one color. Although it sounds simple, it guarantees a mind-boggling challenge as the levels progress. Enhance your cognitive abilities while enjoying this relaxing and visually appealing puzzle exercise.
How to play
The controls of this game are quite straightforward. Simply tap on any colored-water bottle and then tap on another bottle where you want to transfer the water. You can only pour water into another bottle if it's the same color and there is enough space in it. The level is completed when every bottle has only one unique color.
Tips and Tricks
Prioritize emptying a bottle first before focusing on sorting colors as having an empty bottle provides more options for transferring liquid. Be mindful of how much space each color needs in different bottles, and plan your moves accordingly to avoid getting stuck.
Features
Simple, intuitive controls: Just tap to pick up and drop off the water.
Mind-boggling puzzles: Challenging levels that increase in difficulty, perfect for puzzle solvers of all ages!
Vibrant colors: A visually pleasing aesthetic with numerous colorful bottles to sort.
Mental exercise: An excellent way to give your brain some workout while enjoying a relaxing gameplay experience.
What are the best online games?