Warriors VS Evil Spirits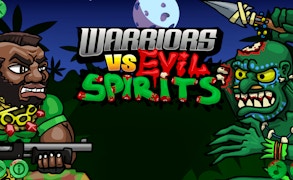 Warriors VS Evil Spirits
Description
In Warriors VS Evil Spirits, you'll be immersed into an intense, action-packed world where your survival skills are put to test. You play as a special forces soldier stranded in an isolated region, facing the most savage tribe ever known. Your enemies are relentless and bloodthirsty, showing no mercy. The game's mechanics focus on strategic combat and rapid decision-making.
How to play
To progress through the game, use your keyboard and mouse for character movement and attack respectively. Each level challenges you with swarms of these savage spirits, each more difficult than the last. The fast-paced shooting action requires quick reflexes and accurate aim. Utilize the environment for cover and take advantage of weapons upgrades as you advance.
Tips and Tricks
The key to longevity in Warriors VS Evil Spirits is vigilance. Always stay on the move to avoid enemy fire and utilize cover effectively. Take advantage of weapon upgrades when available; they can turn the tide in your favor. Finally, don't forget to conserve ammunition — you never know when you'll run out.
Features
Fight it out: Action-packed gameplay against ruthless enemies.
Journey through levels: Challenging stages with increasing difficulty.
Upgrades: Enhance your capabilities with valuable weapon upgrades.
Cinematic Experience: Engaging storyline with vivid graphics.
What are the best online games?