Warehouse Truck Parking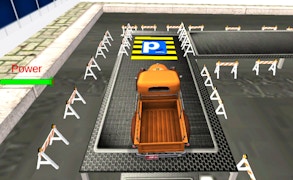 Warehouse Truck Parking
Prepare to rev your engines and get your gears grinding, as we delve into the exhilarating world of the Warehouse Truck Parking game. A sublime mixture of practical skill-building and sheer entertainment, this is your chance to test your mettle in an arena of challenging tasks and tight turns – all wrapped up in a fun-filled package of truck games, car games, and enthralling simulator games.
The first thing you'll notice about Warehouse Truck Parking is its uncanny realism. This is not just another run-of-the-mill driving game. Oh no, this is all about accuracy, tactical maneuvers and mastering the art of parking - an element often overlooked in mainstream racing games. Whether you're a seasoned gamer or a novice driver, this innovative addition to the parking games genre is sure to satisfy your cravings for a more nuanced driving experience.
Crammed full of tight angles and narrow lanes, this brutally honest parking simulator dares you to park mammoth trucks at microscopic spots, teaching you valuable lessons on precision driving that apply as much to real-life truck navigation as they do in the game's virtual environment. Learning how to park a truck under these extreme conditions will redefine your understanding of what it means to be 'good' at truck games.
Moving beyond the thrill of ordinary racing games, Warehouse Truck Parking offers a unique twist with its emphasis on strategic parking. The combination of intense attention-to-detail required and real-life parallel parking simulation makes it an absolute must-play for die-hard fans of simulator games. After all, nothing beats the adrenaline rush that comes from maneuvering a gigantic truck into that perfect spot – just as the timer ticks down its final seconds. Buckle up for one incredible ride!
What are the best online games?