Venge.io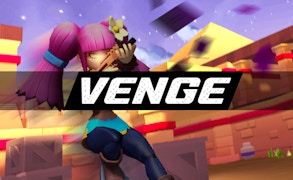 Venge.io
The IO genre of games is continuing to grow and has gotten just a bit bigger with Venge.io. This online FPS multiplayer game has you playing as one of four heroes in a fast-paced and chaotic shooter setting. Although the firearms are staples from other shooter games, you've got variety in terms of the heroes and their abilities. You can play as a guest or make your own account before you jump into the fray to gain experience and build up your profile to get a greater selection of weapons and aesthetics to help you stand out among the online community. Once you get a feel for the controls, you can start firing up the maps.
About Venge.io
The whole goal of games like Venge.io is to create a quick and intense online experience with other players looking to battle it out. As far as colorful 3D goes, this free-to-play game has a nice level of quality with enough gameplay to keep you invested. While there still needs to be some tightening in terms of the controller options as well as the connectivity, there's no harm in playing a few rounds and trying out all the heroes. There are also a number of game types balancing between firefights and mobility. It has a lot of room for growth so it may be worth watching.
How to Play
No matter what game type you're playing, the controls remain the same but your inputs can change. These are the default control layouts:
PC Controls
W - Move Forward
S - Move Backward
A - Move Left
D - Move Right
R - Reload
Spacebar - Jump
E - Melee Attack
F - Throw Attack
Move Cursor - Aim/Look Around
Left Mouse Button - Fire Weapon
Right Mouse Button - Precise Aim
Xbox-Style Controls
Left Analog Stick - Move Around
LB - Reload
A - Jump
B - Melee Attack
Y - Throw Attack
Right Analog Stick - Aim/Look Around
RT - Fire Weapon
LT - Precise Aim
Venge.io Game Modes
Venge.io has several game modes that generally take place on specific maps. The current modes are as follows:
Deathmatch - Eliminate all the other players with weapons and abilities.
Gun Rank - Race for weapons and rank up to get better ones.
Payload - Push a cart to your base and protect it from opponents.
Coin Collect - Collect coins and drop them in your bank to get the highest score.
Storm Blitz - Fly across with a glider and snipe foes from afar.
Parkour - Get to the end of the course while taking out your opponents.
Sniper - Long-range combat where the best aim survives.
Heroes
This game uses the hero system in which abilities are dependent on the hero that they choose. There are currently four heroes available:
Lilium - A martial artist equipped with grenades and a Warhammer, making her effective and dangerous at multiple ranges.
Shin - A ninja equipped with throwing stars and a katana, built for speed and high damage at close range.
Echo - A wilderness warrior who throws axes in arcs and has a grappling hook, making him extremely mobile and efficient.
Kulu - A mystical shaman who can lay totems as explosive traps and cast a strong storm spell to aid in defending various areas.
Weapons
To complement the heroes, there are four types of firearms available for battle. You can only wield one at a time, but you can change weapons during the respawn period. The currently available weapons are:
Rifles - A balanced weapon with a high rate of fire and adaptable range.
Shotguns - A spread weapon that does max damage at close range.
Sniper - A high-power precision weapon made to take out targets from afar.
Handgun - A reliable weapon good for close and mid-range with a good rate of fire.
The Venge.io Shop
As an online competitive FPS, the game offers an online store that lets you buy a variety of custom skins for weapons and charms to use. These are bought with VG coins that are earned by playing through the game and gaining achievements. When you do buy something, it will appear in your Inventory which is accessible from the store page.
Game Details
Developer: Cem Demir
Platforms: Web Browser (PC and mobile)
Languages: English, Turkish, Spanish, Turkish, Japanese, Portuguese, French, and Indonesian
Gameplay Footage
FAQs
How do I add friends?
Venge.io uses the Friend Request system. To add a friend or have a friend add you, the Game ID needs to be shared so that a request can be sent and then accepted.
Games similar to Venge.io
Although this is another IO game, it's also categorized as a Gun Game by GamePix. Searching through this category will show games like Shell Shockers, Squid Shooter, and Shot Trigger.
Venge.io belongs to .io and it is often associated with Gun Games and First Person Shooter Fps Games. This game has received 6411 votes, 5694 positive ones and 717 negative ones and has an average score of 4.4.
It is a game played in landscape and it's playable on Desktop and Mobile on gamepix.com. This game has been published on 2021-06-24, and updated on 2021-06-24.
What are the best online games?