Vegetable Lasagna - Cooking with Emma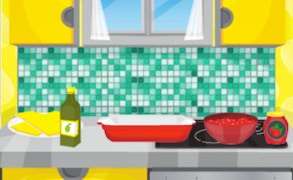 Vegetable Lasagna - Cooking with Emma
Welcome to my review of the mesmerizing culinary extravaganza, Vegetable Lasagna - Cooking with Emma. This hot serving in the online gaming world has been diligently prepared for the fans of puzzle games and cooking enthusiasts alike, specifically targeted towards the 'Games for Girls' and 'Cooking Games' niches.
The game spices up your cooking experience by providing a delightful vegan version of popular dish - lasagna. It's an absolute treasure for those who love Italian cuisine and vegan food. Emma will guide you through a unique culinary journey that both entertains and educates.
The gameplay in Cooking with Emma series is ingeniously tied to real-world recipes. Not only does it serve as an engaging puzzle solver, but it also introduces players to a variety of vegan dishes and how to prepare them. As you navigate through the game, you'll learn about various ingredients, their correct proportions, and when to add them to get that perfect vegan lasagna.
You'll find yourself getting hooked on the game's vibrant graphics and enjoyable background music that sets just the right ambiance for your virtual cooking expedition. Everything from chopping vegetables to baking your lasagna is made thrilling with interesting puzzles added in between.
In conclusion, Vegetable Lasagna - Cooking with Emma is a must-try if you're into 'Games for Girls' or 'Cooking Games'. The game encapsulates an enriching user experience with its great graphics, engaging gameplay, and unique concept. Trust me when I say, this is one delicious chunk of gaming fun you wouldn't want to miss!
What are the best online games?