Valentine's Day Hidden Hearts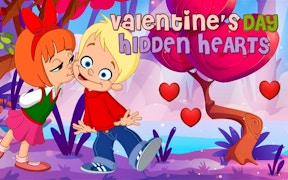 Valentine's Day Hidden Hearts
If you're looking for a delightful blend of Games for Girls, Games for Kids, and hidden object games, then Valentine's Day Hidden Hearts is exactly what you need. This free online game is an enchanting journey of love that beautifully combines simplicity, fun, and a touch of challenge.
The gameplay is straightforward yet captivating: there are 10 hearts hidden across 6 levels, and your job is to find them. The tantalizing moments occur when you see the tip of a heart peeking through a corner or subtly nested within the game's beautiful graphics. As soon as you see one, use your mouse to click on it, making every clickable moment feel like unearthing love.
What's more? There's a timer! Located in the lower right corner of the screen, this timer adds an exciting layer to the game. You'll inevitably find yourself caught in a thrilling race against time, making Valentine's Day Hidden Hearts not just an ordinary hidden object game but a compelling test of speed and focus.
Prepare to lose yourself in a vibrant display of colours and designs as you journey through each intricately designed level. Valentine's Day Hidden Hearts is much more than a game; it's an adventure that combines fun with learning as it also helps develop eye-hand coordination and picture recognition skills in children.
In summary, Valentine's Day Hidden Hearts offers an engaging experience that brilliantly fuses elements from Games for Girls and Games for Kids genres with the addictive nature of hidden object games. So if you're ready to dive into this sea of fun and learning, start the game and have fun!
What are the best online games?