Us Army Missile Attack Army Truck Driving Games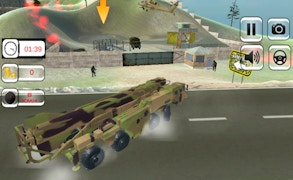 Us Army Missile Attack Army Truck Driving Games
Let the thunder of engines and the roaring of rockets fill your ears as you dive into "Us Army Missile Attack Army Truck Driving Games" - an electrifying entry in the world of truck games, driving games, and simulator games.
This game isn't just about getting from point A to B. No, it's about intertwining the precision required in parking games with the adrenaline rush found in battle games, and weaving them together with plot elements pulled from distinguished war stories found in popular war games. It's a combination that pulsates with excitement, suspense, and challenges, offering a gaming experience that's as thrilling as it is unique.
Your mission, if you choose to accept it, entrusts you with the duty of driving a US army missile truck through treacherous terrains and engaging with the enemy. But remember - this is not just any truck. It's a missile launcher on wheels! You'll be armed to your teeth and equipped with all the necessary gear to advance through enemy lines, presenting an entertaining mix between driving simulator and modern warfare.
The game challenges you to take on the role of both a soldier defending your nation's honor and a tactical truck driver. The objective is crystal clear - aim your missile launcher towards enemy bases, decimate their forces while manoeuvring your cutting edge vehicle across rugged landscapes. All this under constant pressure of an imminent counter-attack! If that doesn't get your pulse racing, we don't know what will.
"US Army Missile Attack Army Truck Driving Games" rightfully earns its spot amongst top-rated army games. It fuses elements from truck driving games into war scenarios creating a captivating blend of genres that is sure to keep gamers hooked for hours on end. So buckle up soldier, we've got a war to win!
What are the best online games?