Up Color Plane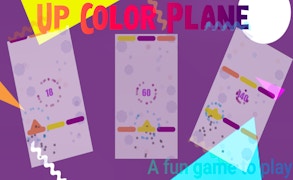 Up Color Plane
Description
Play in an electrifying world of colors with the Up Color Plane game. This stimulating arcade game promises to keep you gripped as you pilot a vibrant plane through colored squares. The objective is simple, yet gripping: Ensure your plane matches the color of the square it passes through. It's an immersive experience marked by simplicity, fun, and a vibrant color palette.
How to Play
In Up Color Plane, your main control is the ability to change the plane's color. You can do this by tapping on your screen or clicking with your mouse. Fly your plane by ensuring that its color matches the color of the upcoming square. Advance through the game by successfully navigating as many squares as possible.
Tips and Tricks
To excel at this game, focus on timing. Change your plane's color right before you approach a square. Develop an eye for differentiating colors rapidly as it will be beneficial in later stages when the pace increases. Also, practice makes perfect in this colour matching excursion!
Features
Straightforward Gameplay: Simple controls and easy-to-understand objectives.
Vibrant Graphics: Enjoy a visually pleasing experience with colorful graphics.
Progressive Difficulty: The game progressively gets more challenging, keeping players engaged and motivated.
Pure Entertainment: Perfect for short breaks or longer play sessions.
What are the best online games?