Unicorn Squash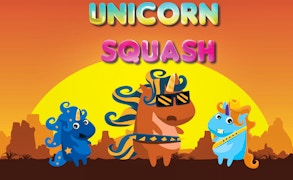 Unicorn Squash
Description
Step into the enchanted world of Unicorn Squash, a captivating match-3 arcade game. The objective is to line up and eliminate all the beautifully designed unicorn squashes on the board within the set time limit. The game demands strategic thinking as you maneuver your way through over 100 dynamic levels. Utilize potent boosters to gain an edge and achieve success in this thrilling puzzle adventure.
How to play
To play, simply use your mouse or touchscreen to swap adjacent unicorn squashes, forming a line of three or more of the same squash to clear them from the board. The game operates on a time limit, so speed and efficiency are crucial. Complete a level by clearing all squashes before time runs out. Use the powerful boosters when you're stuck or when you need to clear large areas quickly.
Tips and Tricks
Your success in Unicorn Squash hinges on efficient time management and strategic planning. Stay focused and try to make combinations of four or more, as these will create special squashes with extra clearing powers. Also, keep an eye out for opportunities that might allow you to chain matches together for an explosive effect. Lastly, don't forget about your boosters!
Features
Race against time: Combines strategic thinking with fast-paced gameplay.
Diverse Levels: Over 100 varying levels to keep players engaged.
Spectacular Graphics: Enchanting unicorn squash designs that add charm to your gaming experience.
Power-ups: Offers diverse boosters to turn the tables in critical situations.
What are the best online games?
Tags