Ultra Brick Breaker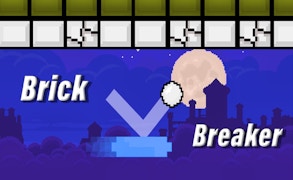 Ultra Brick Breaker
Description
Dive into a classic arcade era with Ultra Brick Breaker. This game is a reinvented modern version of the old-school breakout game, transforming it with stunning graphics and new exciting levels. Control a paddle to ricochet a ball towards bricks, smashing them into oblivion. Your goal is to clear the screen of all bricks while keeping the bouncing ball from falling off the playing field.
How to play
Aiming your ball accurately is the key. Use your mouse or keyboard arrows to move the paddle left or right. The ball rebounds off at different angles depending on where it hits the paddle. You will progress onto more challenging levels as you obliterate all blocks from each stage.
Tips and Tricks
Skillfully direct your ball towards harder-to-reach spots and aim to hit multiple bricks at once for higher scores. Catch power-ups for special effects like extra balls, lengthened paddle, and more. But beware of power-downs that may complicate your gameplay.
Features
Vivid graphics and cool sound effects create an immersive gaming experience.
Numerous challenging levels that progressively increase in difficulty.
Captivating power-ups add an extra layer of excitement to the game.
A High Scores leaderboard for competitive gameplay.
What are the best online games?