Ultimate Flying Car 3d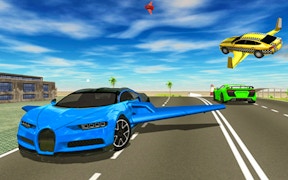 Ultimate Flying Car 3d
For adrenaline enthusiasts who crave an unparalleled fusion of flying games and car games, the newest addition to your gaming repository should undoubtedly be the electrifying 'Ultimate Flying Car 3D'. This game is an ingenious blend of high-octane racing and skillful flying mechanics that will keep you on the edge of your seat.
The game goes beyond the conventional bounds of driving games, propelling you into an immersive world where automobiles take flight. 'Ultimate Flying Car 3D' asserts itself as a standout in the realm of Skill Games, boasting intricate levels of engagement that challenges both your reflexes and strategic prowess. The allure lies not only in its breathtaking aerial flight but also in its intense, ground-based racing dynamics, ensuring an invigorating gaming experience.
The missions in 'Ultimate Flying Car 3D' are far from monotonous, each meticulously crafted to test your driving and flying capabilities while keeping you thoroughly entertained. The exhilaration builds up with every coin you collect, urging you to unlock faster cars and conquer more complex missions. With a wide area to explore and a plethora of cars awaiting to be unleashed, this game is guaranteed to keep you engaged for hours on end.
While it does revolve around racing, 'Ultimate Flying Car 3D' offers much more than just that. It's a test of skill, precision, and courage – proving your worth as a pro driver is only the start. Above all else, it's about embracing the thrill & joy that comes with commanding your car into the sky.
So, if you're looking for a game that seamlessly combines fierce car races with high-flying action? Look no further than 'Ultimate Flying Car 3D'. Buckle up; it's time to hit the road – or rather, the skies!
What are the best online games?