Ultimate Car Arena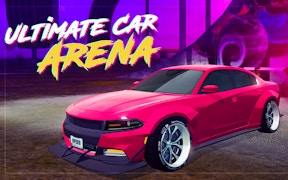 Ultimate Car Arena
If you're a speed junkie with a keen love for driving games and high-octane action, then Ultimate Car Arena undoubtedly deserves your attention. A creative blend of car games and football, the game promises an adrenaline-infused ride that will keep your heart pounding and your fingers busy.
Ultimate Car Arena leans heavily into the realm of simulator games, offering a realistic driving experience that caters not only to seasoned gamers but to beginners as well. The game's mechanics are intricately designed, demanding precision and strategy from players who dare to step into this high-speed arena.
The game provides ample opportunity for players to sharpen their skills while offering a myriad of challenges to keep things interesting. Whether it's dodging obstacles or pulling off spectacular flips, the intricacies of this game make it easily stand out from the crowd when compared to other standard drifting games.
A notable highlight of Ultimate Car Arena is the vast array of sports cars available for you to test out on the field. Each car comes with its unique set of capabilities, meaning you'll need to adapt your driving style accordingly to maximize your performance.
In conclusion, Ultimate Car Arena delivers an exhilarating mashup of genres that results in an exciting, action-packed experience. Its thrilling gameplay, coupled with its strikingly realistic graphics and top-tier physics engine, makes it a must-play for all fans of driving and simulator games.
What are the best online games?