Type Run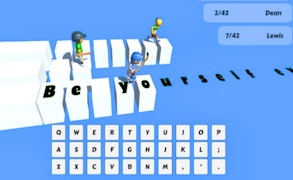 Type Run
If mind-bending word games, pulse-pounding running games, and electrifying brain games are your cup of tea, then buckle up, because the riveting game, Type Run, is ready to take you on a wild ride. A unique fusion of the aforementioned genres, this game will lure you into its realm with an intriguing premise and keep you hooked with its fast-paced gameplay.
At its core, Type Run might seem simple: The faster you type the given sentences, the quicker your character runs. But the beauty of this game lies in this simplicity. It's not just a test of raw speed but also a gruelling challenge for your brain. Every finger slip, every spelling error will cost you precious seconds, giving your ever-stronger opponents an opportunity to catch up.
The race aspect of this game is combined brilliantly with the word game element. The thrill of surviving in an increasingly challenging environment while simultaneously flexing your mind and keyboard skills successfully adds an additional excitement layer to the otherwise repetitive nature of typing games.
However, what truly sets Type Run apart from other word-based running games is the escalating difficulty level. Just when you think you've gained mastery over it, Type Run throws more complex sentences and faster opponents at you - keeping you constantly on your toes.
In conclusion, Type Run is a formidable entrant in the world of brain-intensive running games. It's a fierce test of mental agility and a thrilling ride that puzzle enthusiasts wouldn't want to miss out on. So why wait? Dive into this captivating world and see how many levels can hold onto!
What are the best online games?