Two Stunts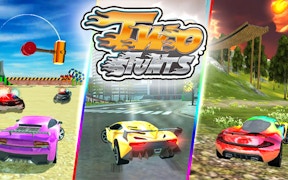 Two Stunts
If you're a high-speed fanatic with an insatiable thirst for adrenaline and a penchant for driving games, then brace yourself for an electrifying journey in the world of Two Stunts. This isn't just any car game. It's a thrilling arena where your skills are put to the ultimate test in mind-bending environments like Exhibition Arena, Nature's Wonder, and The Urban Area.
Two Stunts perfectly blends the heart-racing excitement of top-tier racing with the thrilling bravado of stunt driving, making it one of the most compelling drifting games on offer today. Get behind the wheel of 8 different super-sport cars each packing a punch more powerful than its predecessor, providing you with unprecedented edge-of-your-seat action.
This isn't simply about fast cars and smooth asphalt; it's about feeling every detail, mastering every map, and learning to manipulate your monster machine with finesse. Dynamic environments add another layer to gameplay, challenging even the most seasoned skill games champions.
The thrill doesn't stop there; it's also one of those rare 2-player games where you don't compete against some soulless AI but an actual human competitor. This gives an entirely new strategic dimension to the game experience - predict their moves, outsmart them; become not only a master racer but also a grand strategist.
The inclusion of locked cars adds another level of intrigue to the game. Collecting coins and evading cops adds that touch of exhilarating excitement as you scramble to unlock these mysterious machines. This feature lends an innovative twist making this racing game truly unique while keeping gamers hooked for hours on end.
In conclusion, Two Stunts is not just another addition to your gaming library; it's a revolution in the genre that blends high-speed action with tactical thinking and leaves you coming back for more.
What are the best online games?