Two Lambo Rivals: Drift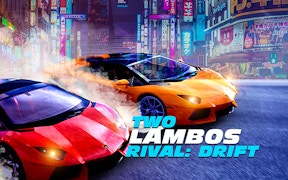 Two Lambo Rivals: Drift
If you're a fan of car games, drifting games and driving games, you'll be quick to rev up your engines for Two Lambo Rivals: Drift. This adrenaline-fueled experience, set in a beautifully rendered, Tokyo-inspired city beneath overcast skies, captures the thrill of racing and drifting like no other.
Two Lambo Rivals: Drift isn't just your typical run-of-the-mill racing game. It pushes boundaries and redefines the drift genre with its impressive features. Take to the streets and drift your way to glory, scoring high to grab the coveted title of Drift King. Make the city your playground as you navigate corners and obstacles with precision driving and expert drifting manoeuvres.
For those who enjoy a bit of friendly competition, there's an added feature that sets this game apart from others in the racing genre. The two-player option allows you to challenge a friend to an intense drifting clash, upping the stakes and adding a new competitive edge to your race.
This is not merely about racing; it's about forging a legacy. With Two Lambo Rivals: Drift, you collect and customize your favourite Lambos, creating an enviable virtual garage that's sure to impress any car enthusiast.
The journey doesn't end at being crowned Drift King. You level up in both racing and drifting capabilities as you progress through the game, pushing yourself to achieve new top speeds and drift records.
Your heart rate will rise with every curve in the road as you accelerate towards victory in Two Lambo Rivals: Drift - an impressive addition to the 2 player games, driving games & car gaming experience!
What are the best online games?