Tunnel Rush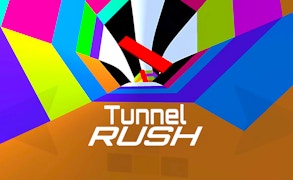 Tunnel Rush
The Endless Runner is meant to do just that to keep you going and reach for a new personal best each time just like in Tunnel Rush. Though the idea of an endless tunnel isn't new, it's not about safely controlling a character or ball through it. No, this is a 3D first-person experience where it looks like you are sent through the tunnel at blinding speeds while trying to avoid all obstacles in your way. The other significant danger is all the color changes that can disorient you if you're not careful so keep that in mind when you start to play.
About Tunnel Rush
Many believe that games shouldn't be designed to go on forever, but ones that do can be reliable. They provide a nice little activity to return to in our downtime or when we just need to occupy our minds. Since this provides strong visual feedback and a semblance of an adrenaline rush, it has the chance to get the blood pumping in a matter of seconds. On the flip side, it could also be a calming experience as you enter a state of flow to calmly navigate all the obstacles that appear as the twists and turns take you further along the endless tunnel.
How to Play
Tunnel Rush is a 3D first-person Endless Runner that is controlled entirely from the keyboard with one of two styles.
Controls
A/Left Arrow - Move Left
D/Right Arrow - Move Right
As soon as the game starts, you'll start careening down a tunnel of alternating colors and patterns. You have the power to move all around the sides of the tunnel with no loss to your speed. As you continue further down the tunnel, you'll come across various obstacles in the appearance of large red geometric shapes. They can range from narrow to thick, typically in pairs. They can rotate around their position in the tunnel or stay still providing only a narrow gap to go through. If you hit any part of them, the run ends and it's back to the beginning. Your goal is simply to get as far as you can.
Tips and Tricks
There's not much that you can do to outsmart the randomly generated obstacles which means the best that you can do is not panic. Don't try to predict what will come, it's best to approach each obstacle as it comes and to make short deliberate movements.
Game Details
Platforms: Web Browser (PC and mobile)
Languages: English

Gameplay Footage
FAQsIs Tunnel Rush blocked?
When you try to play the game, you may get a message saying that it is site-blocked. This can be dealt with by refreshing the page until the game loads properly.
How old is the game?
It's believed that the original version of Tunnel Rush came out around 2003.

Games similar to Tunnel Rush
From the style and the mechanics, you can find this game in the Arcade and Hyper Casual Games categories on GamePix. Other titles in those areas are Dogeminer, Color Line, Slice Rush, and Rope Help.
What are the best online games?