True or False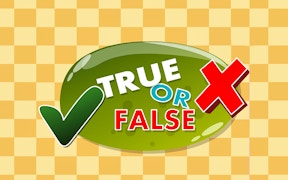 True or False
If you've ever wondered if learning could be fun, True or False answers that question with a resounding yes! This is a unique fusion of math games, number games, and brain games, specifically designed as an immersive way for kids to develop their mathematical skills while having an exciting and engaging gaming experience.
This highly addictive game falls under the umbrella of Games for Kids, but don't let that genre tag fool you. It's not just another game. It's a tool that combines the thrill of gaming with the importance of learning in a seamless manner, making it one of the most entertaining and effective learning games on the market.
True or False dares to challenge its players, tossing math questions rapidly on-screen and forcing them to don their thinking caps at lightning speed. Time is critical here; answer rapidly or face game over! As you get better, the game does not relent. Instead, it ups the ante by reducing your time limit, testing both your mathematical prowess and ability to work under pressure.
This intriguing balance between fun and education is exactly what sets True or False apart from other brain games out there. It's not just about playing; it's about learning through play. That's why it falls into our top recommendations for parents seeking educational yet enjoyable distractions for their kids.
In this digital age, where screen time is inevitable, True or False presents an opportunity for parents to optimize their children's interaction with technology in a productive way. This ideal blend of logic-based gameplay and fast-paced action makes it one of the most worthy picks in the genre of Educational Games. So gear up, give your gray cells a workout and who knows? You might end up becoming a Math Whiz before you know it!
What are the best online games?