TrollFace Quest: Horror 3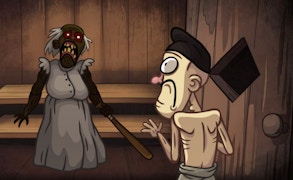 TrollFace Quest: Horror 3
Imagine walking on a thin line between sanity and unsettling madness. Welcome to the realm of Troll Face Quest: Horror 3, a masterfully crafted brain game that blends humor with sheer terror. This is not your ordinary puzzle game; it's a thrilling adventure that takes you to the depths of the uncanny, where every corner holds a riddle waiting to send chills down your spine.
The first thing that strikes you about this horror game is its unique concept, daringly blending traditional brain games with the eerie undertones of horror games. Troll Face Quest: Horror 3 is an audacious attempt at creating a bold new sub-genre in the gaming world, and it succeeds brilliantly.
One step into this haunted playground and you're hooked, mesmerized by its psychological entanglements and nerve-racking puzzles. The pronounced duality of fear and humor adds an innovative element to the gaming experience, making it one-of-a-kind in the arena of scary games.
The truth is, there's only one right answer buried deep within each puzzle. But finding it is no mean feat; you'll have to venture into the very heart of insanity itself. The mental gymnastics involved in deciphering each riddle are mind-blowing, pushing you to your intellectual limits.
In conclusion, Troll Face Quest: Horror 3 offers an electrifying blend of dark humor and mind-twisting puzzles that will keep horror games fanatics on their toes. With its uniquely challenging brain games wrapped in an eerie ambiance, this game sets a new benchmark for scary games. Dive into it headfirst, if you dare!
What are the best online games?