Triangle Trip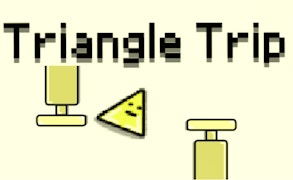 Triangle Trip
Welcome to our review of Triangle Trip, an engaging and highly addictive entry in the arcade gaming genre. It's a delightful homage to the wildly popular Flappy Bird, with its own unique twist. By focusing on skill-games, tap-games, and the sheer joy of fun-games, Triangle Trip ensures countless hours of unadulterated entertainment.
The premise of Triangle Trip is simple, yet compelling. As a modern-day digital nod to arcade classics, Triangle Trip embodies a simple yet engaging concept that leaves gamers hooked for hours. Its mechanics are reminiscent of Flappy Bird, requiring players to showcase their tapping expertise and quick reflexes to navigate through increasingly challenging obstacles.
This game makes excellent use of the classic principles that underpin both arcade games and tap games. Precision, skillful navigation, and quick reactions form the heart of this game, making every round a thrilling experience. Perfect for those who relish challenging their visual-motor coordination skills.
You don't just have to take our word for it though; the fact that it's developed by a first-time game developer eager for your kind support only adds to its charm. The clean graphics coupled with its simplicity provides an immersive experience that will have you coming back for more.
So whether you're looking for a fun way to kill time or just enjoy a great arcade-style tap-game, we highly recommend giving Triangle Trip a shot. It's not just about nostalgia; it's about reviving the golden days of arcade gaming in an exciting new format that will keep you on your toes!
In conclusion, if you enjoy Flappy Bird-like fun games, or are simply a fan of arcade games that require skill and precision, don't miss Triangle Trip. This might just be your new favorite game. Happy gaming!
What are the best online games?