Trials Ride 2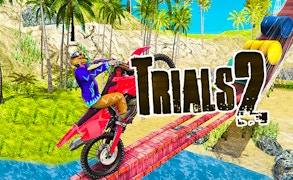 Trials Ride 2
Welcome to the high-octane world of Trials Ride 2, the pinnacle of motorcycle-games that will put your driving skills to the ultimate test. This cool motorbike stunt game isn't just about speed, but also precision, balance, and agility. Whether you're a seasoned rider or new to dirt-bike-games, Trials Ride 2 promises an immersive experience like no other.
In this thrilling sequel to one of the most beloved driving-games, you take control of an all-terrain two-wheeler through complex levels filled with containers, ramps, and scaffolding. Every level is a labyrinthine obstacle course designed to challenge your mastery over the bike and your nerve. Speed isn't merely suggested in Trials Ride 2; it's vital. The faster you finish each level, the higher your score soars.
The mechanics of Trials Ride 2 are brilliantly simple yet incredibly hard to master. It demands from its players a rare blend of poise and precision, timing and tact - essential ingredients which make it one of the best skill-games. Balancing your motorbike while attempting audacious flips and overcoming obstacles is a deliciously nerve-wracking experience. A slight miscalculation can land your rider on their back, forcing you to restart the stage.
The thrill of zipping through levels at breakneck speeds while navigating through extreme terrain sets Trials Ride 2 apart from other motorcycle games. As you progress, every ramp conquered feels like a triumph; every successfully performed flip is worth celebrating.
If you're seeking a heart-pounding adrenaline rush or simply looking for an immersive motorbike simulation game that tests your mettle, then Trials Ride 2 is the ride of your life. Strap on your helmet, rev up your engine, and start riding. Enjoy playing Trials Ride 2!
What are the best online games?