Trials Ride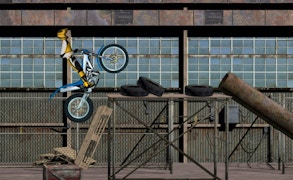 Trials Ride
Unleash your inner daredevil with Trials Ride, an action-packed entry in the realm of online driving games. This game delivers an adrenaline-pumping experience unlike any other, positioning itself as one of the most engrossing motorcycle games on the market today.
Kicking up dust and surging forward, Trials Ride pushes you headfirst into a hangar filled with challenging obstacles. Unlike your typical dirt bike games, this game draws you in with its unique trials motorbike, lending an authentic edge to every thrilling moment. Maintaining balance isn't just key—it's survival. In this intricate balance between control and chaos, Trials Ride emerges as a satisfying outlier among bmx games.
The clock ticks away mercilessly, challenging you to reach the finish line in record time. The sense of urgency adds another layer of complexity, morphing this game into much more than just one of the many offroad games. It becomes a test of true skill and precision—a perfect stage for the racing enthusiast looking for a rigorous challenge.
The trickier the obstacle, the harder it is to keep your bike balanced; but therein lies the thrill that keeps players coming back for more. Each twist and turn begs for your full attention, keeping you at the edge of your seat from start to finish.
In conclusion, Trials Ride has successfully merged bone-rattling excitement with intuitive controls to create an immersing gaming experience. Whether you're a seasoned rider or new to motorcycle games, Trials Ride offers an unmatched racing thrill that will have you clamoring for more.
What are the best online games?