Trains.io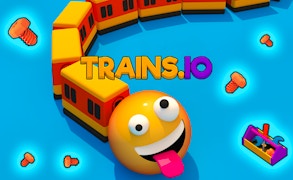 Trains.io
Description
In Trains.io 3D, you're the conductor of a unique locomotive in a vivacious 3D world. This isn't just any train game; it's a captivating, slithery survival adventure where the goal is to grow your train's length by devouring other trains. Collect screws and toolboxes to accelerate your growth and become the most formidable railway giant.
How to play
You control your train using the mouse or touch controls. Glide around to consume smaller trains and collect scattered screws and toolboxes for rapid growth. Be cautious of larger competitors; they can derail your journey. Grow your train to colossal lengths, outsmart other players, and own the railway like a true Train King.
Tips and Tricks
Don't get too aggressive at first; start by eating smaller trains and gradually increase the size of your prey. Pouncing on larger trains too soon could lead to an early game over. Collecting screws and toolboxes is an effective way to upsurge your size swiftly without any risks.
Features
Vibrant 3D graphics and smooth gameplay that gives a unique twist to IO games.
Collectible items (screws and toolboxes) for quick growth.
Evolving gameplay with increasing difficulty as your train grows.
A competitive leaderboard to compete with players worldwide.
What are the best online games?