Train Snake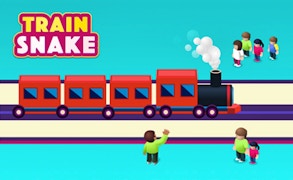 Train Snake
Welcome to another exhilarating foray into the world of Arcade Games. Today, we delve into the realm of skillful maneuvering and careful planning with one of the latest entrants in the genre of Snake Games and Skill Games, "Train Snake."
Be prepared to guide your engine of excitement through a maze of challenges in Train Snake. This game is a delightful blend that tests not only your reflexes but also requires strategic foresight. But stay sharp, because one wrong move, and you're on a collision course!
Train Snake has beautifully incorporated traditional snake games' concept with a modern twist. It's not just about growing longer and avoiding your tail. Now you're an industrious locomotive with precious cargo - passengers that need delivering to their ultimate destination!
The game throws in a mix of obstacles to test your vigilance and add an extra layer of anticipatory thrills. It embodies the true spirit of Arcade games, keeping players on their toes while continually dangling the carrot of high scores and leaderboard domination.
The balance between complexity and fun in Train Snake is truly noteworthy. Its simplicity keeps it accessible to everyone, while its escalating difficulty can keep even seasoned gamers engaged for hours on end.
In conclusion, Train Snake isn't just another addition to the vast catalog of snake games out there; it's a testament to how classic concepts can be reimagined and elevated to an even more engaging experience. Whether you're a veteran in skill games or someone looking for an enjoyable way to pass time, Train Snake delivers what it promises - pure arcade bliss!
If you've got a flair for train-driving strategy mixed with classic snake gameplay, then gear up for an engaging ride with Train Snake – your next arcade obsession waits just around the bend...
What are the best online games?
TAGS