Train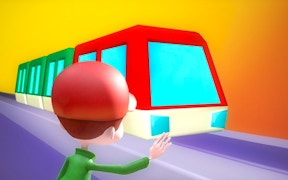 Train
Delving into the fascinating world of brain games, the unique and addictive title, Train, is a delightful addition to the landscape of Hyper Casual Games. This game tests your intellect, challenges your quick-thinking abilities and whisks you off on an exciting ride through a brilliantly conceptualized game world.
Unlike traditional driving games, Train isn't about acceleration or speed, it's more of a strategically planned journey. The premise is as intriguing as it sounds - collecting passengers to make your train longer. A concept straightforward in theory, but poses a formidable challenge as the train lengthens. The game play is surprisingly intricate for such a simple notion, revolving around utmost precision and planning. This somehow gives you a flavor of truck games, where plotting your path ahead plays a dominant role.
The multitude of interesting levels only elevates the intrigue factor. Each level provides varied scenarios and challenges that constantly test your strategic ability, ensuring unending engagement and replayability factor. You'll find yourself hooked in no time, trying to outmaneuver yourself with each passing level.
In conclusion, Train is an exceptional blend of easy-to-grasp mechanics with challenging objectives that ensure hours of mental gymnastics. It's truly one of the must-play brain games that successfully bridges the gap between fun and mental stimulation. So hop on this captivating journey now!
If you seek an engaging blend of strategy and fun with casual gameplay at its core, look no further than Train - a title that challenges you to stretch your intellectual horizons while providing enjoyment at every turn.
What are the best online games?