Traffic Tour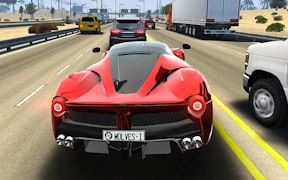 Traffic Tour
Rev up your engines and brace yourself for a top-tier gaming experience with Traffic Tour, a thrilling addition to the genre of car, drifting, and driving games. Whether you're an adrenaline junkie or a casual gamer seeking an exciting racing experience, this high-octane highway escapade is ready to impress.
Traffic Tour propels you into the heart of dynamic lanes and traffic jams, challenging you to weave past vehicles in daring lane-splitting action. The more risk you take, the higher the rewards, creating an explosive thrill-ride that's sure to get your blood pumping. Simultaneously, it stays true to the core mechanics of car games, making it engaging for both new and seasoned players.
Boasting exceptional graphics quality that matches its real racing experience, Traffic Tour transports you into a mesmerizing world of speed and exhilaration. The seamless integration of high-quality visuals with smooth driving simulations accounts for an immersive racing experience rarely seen in free-to-play games.
The multiplayer mode is another exciting feature that puts your skills to the ultimate test. You can choose among a vast selection of race cars and challenge players from across the world in real-time raucous races. It doesn't stop there! Immerse yourself in 100 unique online missions that enable you to compete against opponents and reap fantastic prizes.
If you're looking for a unique spin on your usual racing game session with friends, Traffic Tour's innovative 1V1 game set-up ensures a thrilling face-off that's sure to bring out your competitive side. With its remarkable CRS (car racing system), Traffic Tour brilliantly melds raw speed with strategic gameplay—delivering what could be dubbed as one of the best free racing games available today.
In conclusion, Traffic Tour is more than just another game—it's an exhilarating journey infused with limitless speed and relentless action that places it firmly at the forefront of driving games.
What are the best online games?