Traffic Tom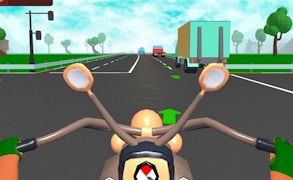 Traffic Tom
Welcome to the thrilling world of Traffic Tom, a potent blend of adrenaline and precision that sets it apart in the realm of motorcycle games. With this title, you're not just playing another banal driving game; you're engaging in an exhilarating test of skill, reminiscent of the best dirt bike games out there.
Traffic Tom takes you on an unforgettable journey where you'll flex your expert maneuvering skills through the traffic-filled streets. The game clenches your curiosity from the first ride and keeps you coming back for more, paving its way among top-tier skill games.
The lifelike graphics add a realistic touch to your virtual motorcycling experience providing an immersion that's tantalizingly tangible. Your heart will pound as you weave around cars at breakneck speeds, pushing your reactions to their limits. Traffic Tom is not just a game; it's a shot of pure, unrefined excitement injected straight into your daily routine.
A triumph in the genre, Traffic Tom strikes a perfect balance between difficulty and enjoyment. It is a testament to what driving games should aspire to be - challenging, engaging, and most importantly, fun. The beauty of this game lies in its simplicity; it has no frills attached yet offers an intense gaming experience that keeps you hooked.
In summary, Traffic Tom stands tall amid the sea of motorcycle games, representing an enticing venture into the heart-pounding world of speed and skill. Its enticing gameplay matches its sleek visuals stride for stride making it a must-try for all fans of dirt bike games. So put on your virtual helmet and prepare for an extravagant ride with Traffic Tom!
What are the best online games?