Traffic Run Online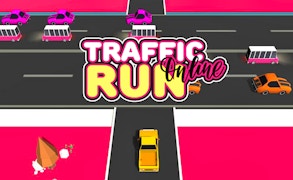 Traffic Run Online
If you've ever dreamt of darting through busy streets with the agility and precision of a seasoned driver, then the Traffic Run Online is the game you have been waiting for. This adrenalin-inducing racing game delivers an exhilarating experience akin to no other. Amidst the saturated market of driving games, Traffic Run Online steers clear in its own lane, delivering a fresh, exciting twist that most car games fall short of offering.
The primary objective is simple, yet challenging: cross bustling roads without colliding with any vehicles. But don't let this straightforward goal fool you. The real thrill begins when you start maneuvering between speeding cars, timing your movements exquisitely to avoid any catastrophic hits. The exhilarating sensation this game gives is akin to a seasoned stunt car driver performing eye-popping feats.
Different from other typical car games, Traffic Run Online requires dexterity and strategic thinking – essential elements often found in top-tier Management Games. Each level presents its unique challenges where quick reflexes alone won't guarantee your success. You'll need to carefully strategize your movements, manage your speed, and expertly navigate through the maddening traffic for survival.
The real beauty of Traffic Run Online comes into play when you begin exploring new levels - each teeming with increased complexity and varying road conditions that will surely test your mettle as a virtual driver. Moreover, the game's clean and vivid graphics add an extra layer of immersive environment, ensuring you remain captivated at every turn.
In conclusion, Traffic Run Online is not just another addition to the endless line-up of conventional driving games. Instead, it manages to fuse together aspects of strategy found in Management Games while maintaining the fun and adrenaline rush distinctive of car games. If an electrifying driving experience within your fingertips is what you seek – look no further than Traffic Run Online.
What are the best online games?